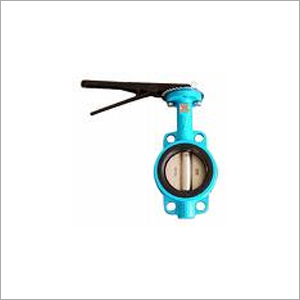 Industrial Butterfly Valves
Product Description
Butterfly Valves

We came into this industry with a vision of offering complete client satisfaction by manufacturing optimum grade Heavy Duty Butterfly Valves. The valves are sturdily manufactured by our manpower making use of superlative quality material and cutting-edge technologies. We offer different variants of these valves distinguishing in sizes, capacities, dimensions and specifications to match with the needs of our wide client base. Butterfly Valves are widely used in industries for regulating the flow of material through high pressure systems.
Features:
High performance
Rigid design
Excellent withstand efficiency at high pressure
Further Details:
A butterfly valve is from a family of valves called quarter-turn valves. The "butterfly" is a metal disc mounted on a rod. When the valve is closed, the disc is turned so that it completely blocks off the passageway. When the valve is fully open, the disc is rotated a quarter turn so that it allows an almost unrestricted passage of the fluid. The valve may also be opened incrementally to regulate flow. (See throttle.) There are different kinds of butterfly valves, each adapted for different pressures and different usage. The resilient butterfly valve, which uses the flexibility of rubber, has the lowest pressure rating. The high performance butterfly valve, used in slightly higher-pressure systems, features a slight offset in the way the disc is positioned, which increases the valve's sealing ability and decreases its tendency to wear. The valve best suited for high-pressure systems is the tricentric butterfly valve, which makes use of a metal seat, and is therefore able to withstand a greater amount of pressure.
Contact Us
B No. C-601, Badhwar Apartments, Plot No. 3, New Delhi, Delhi, 110075, India
Phone :+918045804985